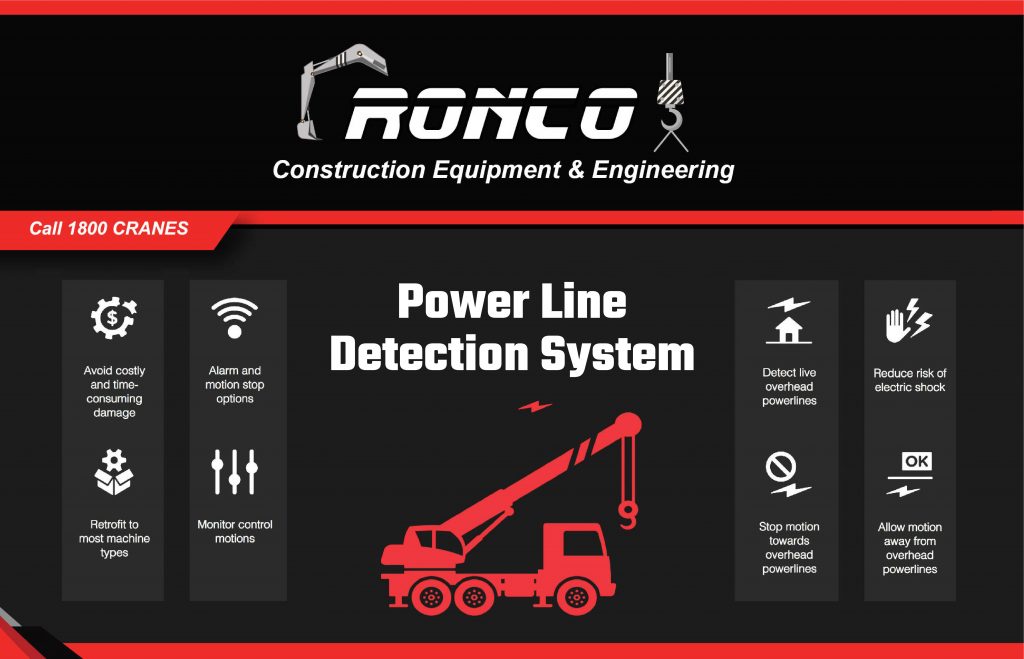 Power Line Detection System
Ronco is excited to announce an addition to our range of safety products, the Power Line Detection System. This safety product will be offered as an optional extra with our cranes, excavators and other lifting equipment. We can also install the system when you bring your machine for it's next service.
We offer Power Line Detection System protective indication alarms and optional motion-stop technology, which is designed to alert the operator that they are near a high voltage electricity sources, or prevent the machine from moving closer to the high voltage source, allowing them to manoeuvre safely away to keep personnel and machines safe. We recommend retrofitting aerial machines with the Power Line Detection System's motion-stop option to prevent moving into overhead powerlines, while allowing the operator to safely move the machine away from the high voltage electricity source.
Ronco is a forward thinking and driven company, we constantly examine how we can improve safety in changing market demands and environments. With the Power Line Detection System installed on crane or excavator booms, we can offer superior machines and services. If you would like to know more information, please contact our team. Alternatively, if you would like to get a quote for getting your machine fitted with a Power Line Detection System, please click here and fill in the form, and one of our team members will be in touch with more information